My May 11 Ward Letter discusses the City's future under the next administration, my own plans and my request for your support.
With the election looming this Fall, many of us have followed the gubernatorial contest with interest, as the candidates offer competing visions for our State's future. While discussions about our City may seem less compelling, we learned from recent experience that we cannot treat our City's future with benign neglect – had Providence gone into bankruptcy in 2011-12 it would have brought dramatic changes not only to us as Providence residents, but also to the stability of the State as a whole. Because of that, the change in administration in City Hall next year is no trifling matter.
Whatever the outcome of this fall's election, the City's Mayor-elect will face a steep learning curve. In some ways, this will present an opportunity for new ideas, but as Mayor Taveras recently stated, the City's recovery was the result of careful management and a relentless focus on fiscal integrity, but our progress to date can fade quickly if anyone proceeds on the mistaken notion that the City's challenges have been solved for all time.
In my term on the City Council, I have worked hard to help craft the City's fiscal solutions, including developing a revenue plan on the Revenue Study Commission, developing the pension reform ordinance as Vice Chair of the Pension Sustainability Committee. I also have introduced initiatives to make the City's revenues more productive and fair without raising tax rates through ordinances that ended the "Florida license plate problem" and the "Welcome to Providence" tax penalty. I also have contributed a report on the teachers' contract that contained many proposed reforms that were incorporated into the current one. I also have introduced a number of "good government" reforms, including a more transparent redistricting process (approved as a City Charter amendment) and protecting the public's right to comment at hearings of the Zoning Board and the Building Board of Review. To preserve my ability to act in the people's interest, I have refused campaign contributions from City employees, paid Board members, vendors, lobbyists and political action committees.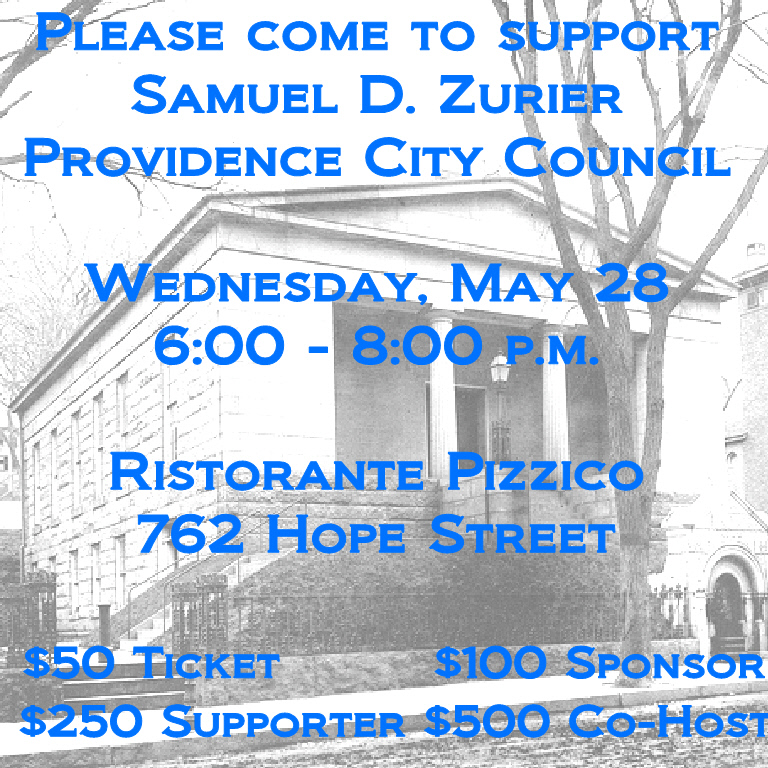 To continue my work, I need your help. Please join me at a fund raising reception at Ristorante Pizzico, 762 Hope Street on Wednesday, May 28 at 6:00 p.m.  To purchase a ticket, click here: Buy a ticket .  Or, if you prefer, you can purchase a ticket with check by mail by  printing this Contribution Form, filling it out, and mailing it with your check to the address indicated on the form.
Thank you for your consideration.